About Jimmy Dormire
Jimmy Dormire is a guitarist, singer-songwriter from Hartland, Michigan., a small town just North of Ann Arbor. Relocating to Nashville, Tennessee by way of Southern Florida in 1990 became a great career move for Jimmy.  From a three year run with artist Clinton Gregory to a fourteen year journey with Grammy nominated Atlantic recording group "Confederate Railroad", Jimmy has played to millions of people throughout the world and shared many a stage with Southern Rock legends (The Charlie Daniels Band, Dickey Betts/Allman Brothers Band, Marshall Tucker Band, Atlanta Rhythm Section, Little Feat and 38 Special) as well as country music legends (Merle Haggard, George Jones and Johnny Cash). While holding down the lead guitar spot in "Confederate Railroad" Jimmy was always able to let his signature style and tones shine through thus touching people with deep soulful emotion.
 Having years of pro experience under his belt, Jimmy began stepping out to "speak his own truth" as a guitarist with a deep prevailing wisdom and versatility. A devout disciple of the Duane Allman and John Mclaughlin schools of tone and improvisation engrained a unique phrasing within Jimmy all his own. Breathing chordal thoroughfares amidst big warm tones fill the air with a sense of deep spirituality. The debut of "Premonition"  marked a new journey for Jimmy as an artist with a vision and quest as a musician is to speak to souls with a transcending message of peace. 

In 2008 Jimmy departed from Confederate Railroad to pursue new musical opportunities as a solo artist. Aside performing with his group the Infinite Line regionally Jimmy took the lead guitar spot with Country Music and Outlaw Gospel artist Cody McCarver. 
Jimmy's quest to reach higher musically led him to performing  2014/2015 with the legendary Father of JamBand Col. Bruce Hampton. A solid year of touring beside the Colonel shed an oracle of light upon Jimmy's improvisational prowess. The window of opportunity opened with the hit ABC drama Nashville bringing Jimmy in as a guitarist for the Luke Wheeler Band for seasons 3, 4 and 5. In 2019 Jimmy began touring with singer/actor John Schneider of Dukes of Hazard fame. From 2016 onward Jimmy began to perform solo acoustic dates aside regional dates with his trio Peace Merchants.
In the Fall of 2021 Jimmy began touring as lead guitarist for the legendary Southern Rock group the Outlaws and Country Music group Blackhawk. 
 
BEGINNINGS 
At the age of 5 the music of the Beatles became imprinted on Jimmy's soul, from that moment on music would be his life. His Father brought home an old Gibson acoustic guitar he had borrowed from a work buddy one day, Jimmy remembers his hands being so small at that time but he still tried to play along with the records they had. His Father raised him on Country music while his Mom raised him on Motown, of course Jimmy loved Rock and Roll. The players most inspiring at this time were Chet Atkins, Roy Clark and Jerry Reed. Television brought great musical awakenings those days as well that  totally dazzled Jimmy with intense inspiration. The fast "Django Reinhardt" flatpicking type style of Glen Campbell, the fiery Western Swing/Bebop style of Leon Rhodes and the soulful "Big Jim Sullivan"  broadened the guitar horizon extensively. Jimmy began formal guitar lessons at age 8 learning how to read and develop his ear training skills. With great music on the radio those days coming from Detroit especially Motown (The Temptations, Stevie Wonder, Marvin Gaye) etc, inspiration was easy to come by. Rock and Roll was an everyday word around the house and Jimmy's first concert was Bob Seger and the Silver Bullet Band. Jimmy had the greatest musical environment surrounding him and became totally immersed in it. Alongside the great local players and spectacular motor city jazz scene, these sparks ignited a passion 
so deep he began to reach higher into the music world. All of this sound and inspiration became a "Musical Baptism" for Jimmy, touching his heart with the purest of truths, the universal language of music. 
AWAKENINGS 
Jeff Beck (The Jeff Beck Group) and Richie Blackmore (Deep Purple) truly opened Jimmy's ears and sparked an intense learning experience, deeply displaying the guitar as being an extension of the body itself! He remembers learning Jeff's tune "Situation" and Richies tune "Lazy" in his early teens and dazzling those at his first gigs which were High School dances etc. At this time Hendrix, Cream and Led Zeppelin were also swirling around his head and then he awoke to the great intensity of the "Allman Brothers Band". The huge warm soulful tones of Duane Allman and Dickey Betts guided his path in a new direction. A quest for this deeper music led to the blues of B.B.King, the jazz of Pat Martino and the bluegrass of Tony Rice.
 
ENLIGHTENMENT 
Before graduating high school Jimmy discovered a band on a public television channel, "Return to Forever" with a young Al DiMeola. This guided his path to the "Berklee College of Music" in Boston, MA., and what an incredible impact it was. There he discovered  "John Mclaughlin" and like a beam of light directly to the soul Jimmy's musical journey of life changed. Upon returning home he got to meet John along with Shakti backstage before their show and the deepest spirituality he'd ever felt from music overtook him, this light has been with Jimmy ever since. "When the musical intensity of John Coltrane's (A Love Supreme) entered my life the spiritual deepness of God within music went straight to my heart and resolved in my soul, when notes become prayer"...
 
MY DEVOTION 
I have made a life of music, many different styles with a continuous evolution.  I believe now I have come full circle... With the wisdom of the past and guiding light of the future I must now "play my own truth". To play with a deep and pure soulfulness straight to the heart of the listener. To be the lords instrument and play with a total awareness of why we're here on this planet. To be thankful for every breath and put every ounce of being into every note. Above all, to be as healing as I can be...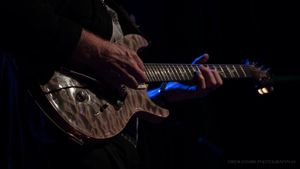 Confederate Railroad 1995-2008